Homebuilders Soar as U.K.'s May Stokes Slowing Property Market
Homebuilders soared in London trading after the U.K. government said it would extendthe Help to Buy program, under which the government lends buyers up to 40 percent of the cost of a new home.
The Conservatives, under pressure to increase homebuilding, will set aside 10 billion pounds ($13.3 billion) to help people buy properties, stimulating the demand side of the market. The extension is expected to help an extra 135,000 people buy a home, Prime Minister Theresa May's office said.
Gains were led by Bovis Homes Group Plc, which rose as much as 4.7 percent, and Barratt Developments Plc, which climbed up to 4.6 percent.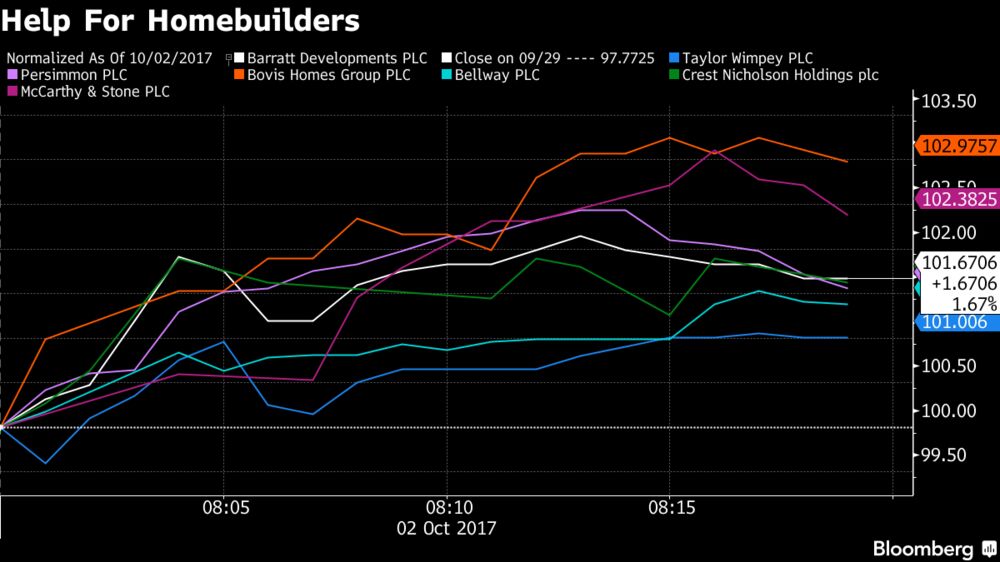 Help to Buy was introduced in 2013 by the then Chancellor of the Exchequer George Osborne, who said it would help debut homebuyers that were unable to save a large deposit. The policy was called "moronic" at the time by Societe Generale SA global strategist Albert Edwards, who said it would encourage Britons to add to their already high debt levels. House-price gains have started to slow in recent months as values reach affordability limits, with prices falling in London for the first time since the financial crisis in the quarter through September.
"We really should start weaning house builders off Help to Buy rather than doubling down," said Neal Hudson, founder of research firm Residential Analysts Ltd. "It's only helping people who would've bought anyway; definitely not helping renters with lower incomes."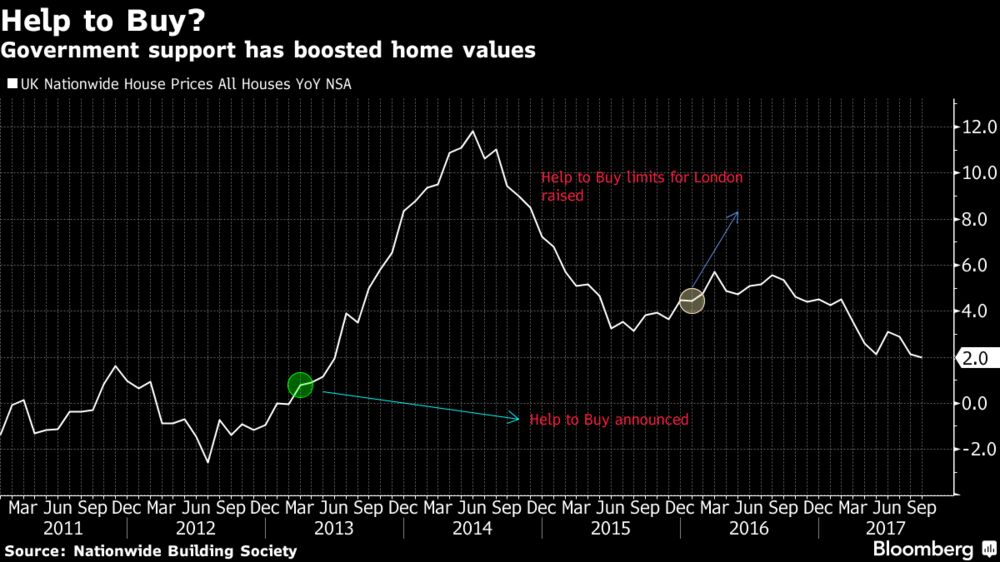 The program, along with record low interest rates among other factors, has helped push U.K. home prices to a record and is supporting values elsewhere. As many as 95 percent of purchasers at some of Crest Nicholson Holdings Plc's projects in London's outer suburbs are using Help to Buy and it's supporting sales prices, Chief Executive Officer Stephen Stone told analysts in June.
"Home sales by the listed home builders using the Help to Buy scheme now amount to about 40 percent of sales, so it's an important revenue stream," according to Bloomberg Intelligence analyst Sue Munden. "Any extension or improvement to this program could buoy revenue further."
Hudson is worried that Help to Buy support will be increasingly factored into land values. "Unfortunately, that makes it much harder to withdraw and leaves less flexibility in event of downturn," he said.
SOurce : https://www.bloomberg.com/news/articles/2017-10-02/homebuilders-soar-as-u-k-s-may-stokes-slowing-property-market