House prices surge near Crossrail stations by up to 82%
Property values around some Crossrail stations have surged since the east-west London line got the green light in 2008, with the fastest-rising jumping 82%, according to a new report.
Along the length of the entire line from Maidenhead to Shenfield prices within a short walk of stations have risen only 5% more than the local market, gaining 43% on average since 2008, but within that some areas have soared much faster.
Prices within a 10-minute walk of stations in central London have risen an average of 57%, according to analysis from London estate agent Knight Frank, while those close to Bond Street station have soared by 82%, the largest increase along the route.
Outside central London, Acton has seen the largest increase, 77% over the last six years, a third more than the average for the area. In central London, Farringdon and Paddington have both outperformed the local area by approximately 24%. Shenfield, at the easternmost end of the Crossrail line, has outperformed the local market by nearly 12%.
The tunnelling for Crossrail, Europe's largest infrastructure project, is nearly complete, and the 73-mile (118km) railway line is expected to open in late 2018. The high-speed line will increase London's overall rail capacity by 10%.
Gráinne Gilmore, head of Knight Frank UK residential research, argues that transport is a particularly important factor in the capital's property market. The company's survey shows that 91% of tenants in London want to live within 1km of a transport link.
She said: "Over the last 12 months, the price 'ripple' effect in London has really started to take effect, with stronger price growth in areas surrounding central London. This could help feed into stronger price growth around stations towards the east and west, especially those which have underperformed to date, and where housing supply is set to be delivered in the coming years."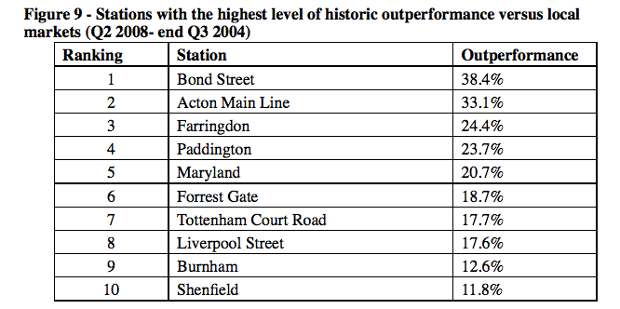 House prices within a 15-minute walk of western Crossrail stations have risen by an average 28% since 2008, 6% more than the local market. In the eastern section, values have grown by 21%, outperforming local markets by a more modest 3%.
Knight Frank has predicted London prices will rise 18% by the end of 2018, but said the areas around Crossrail stations would continue to rise fastest.
The report does not claim that Crossrail is the only factor in the price growth across the route but one of a number of factors driving the trend. The increased development that comes with these infrastructure projects is a key driver.
Gilmore added: "The planned levels of development along the outer sections of the Crossrail route should provide scope for price uplifts as the public realm is improved, amenities receive a boost and buyers have new reasons to visit the area. The relative 'discount' in terms of price per square foot in these areas compared to more central locations is also likely to work in their favour."
Source (http://www.theguardian.com)