Sydney property drops after 17-month climb but Melbourne rises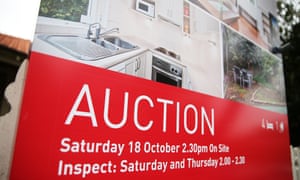 The 0.1% fall marked the first time Sydney's property market has gone backwards in 17 months. Across Australia, combined capital growth was only 0.7% during the quarter down from peaks of 3.5% less than a year ago in December 2016.
Property analyics firm CoreLogic said the figures showed the housing market was "clearly losing steam" and that tighter lending rules were affecting the market.
"This slowing in the combined capitals growth trend is heavily influenced by conditions across the Sydney market where capital gains have stalled," analyst Tim Lawless said.
Across the quarter, Sydney's market only grew by 0.2%, while annual growth has been pegged back to 10.5% from 13% in August. Sydney's median dwelling value is $909,613.
The news of a slowing market will likely be welcomed by regulators. The Australian Prudential Regulation Authority has sought to tighten interest-only mortgage lending and the Reserve Bank of Australia has warned about the rise in household debt.
However, other capital city markets continued to grow during the same period. Prices in Melbourne grew by 0.9% in the month and 2% across the quarter, while Hobart was the fastest growing capital – increasing by 1.7% and 3.4% in the same period.
Results were mixed across the other capitals. Prices fell in both Perth and Darwin, while Brisbane and Adelaide showed some growth.
But while the housing market may be cooling, rent is increasing faster than before.
A year ago capital city rents were rising at the annual rate of just 0.8% but according to CoreLogic the past 12 months growth has risen to 2.8%.
In Sydney, rental growth has increased from 2.2% a year ago to 4.8%, while rents in Melbourne are now tracking at 4.8%, up from 2.4% a year ago. In Hobart, weekly rents are now rising at 8.5% per year.
Lawless said the latest data also showed an "increasing presence" of first-home buyers in the market, arguing moves to increase access to the market by axing stamp duty were working.
"Based on housing finance commitments data, first-home buyer activity surged higher in NSW and Victoria as first-timer buyers took advantage of stamp duty concessions that went live on July 1st," he said.
"Between June and July, the number of first home buyer commitments increased by 28% across New South Wales and 11% across Victoria.
However, he said first-home buyer numbers are "trending higher across other states where stamp duty rules were unchanged, suggesting that lower affordability barriers and an increasing appetite for owner-occupier lending is fuelling a broader rebound across the first-time buyer segment".
Source: https://www.theguardian.com/australia-news/2017/oct/02/sydney-property-drops-after-17-month-climb-but-melbourne-rises