UK property market at its weakest for six years, says Rics
Surveyors body expects prices to fall in the south and south-east over next three month.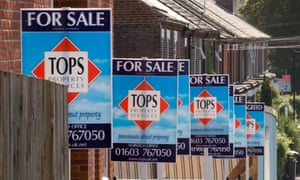 The UK property market is at its weakest for six years, with prices flat or falling across half the country according to Britain's official surveyors body, with reports that sales are "in limbo" until a Brexit deal emerges.
The Royal Institution of Chartered Surveyors (Rics) said its monthly survey of members found "the weakest reading since September 2012" in October, with prices falling in London, the south-east, south-west and East Anglia.
Surveyors expect prices to continue to fall in these parts of the country for the next three months, although they are forecasting they will remain flat nationally over the next 12 months.
Many surveyors said transaction activity has almost evaporated, as buyers refuse to strike a deal until there is some sort of certainty over Brexit. In Ealing, west London, surveyor Ronan McNamara of Robertson Smith and Kempson said: "Brexit is the big issue. It has massively affected buyer confidence."
Outside of London, the impact of Brexit on carmakers in Birmingham is also contributing to falling markets. Alex Smith, a surveyor in Birmingham said "
Simon Rubinsohn, chief economist at Rics, said: "The uncertainty about the economic outlook on the back of the never-ending Brexit negotiations appears a key drag on sentiment."
The Rics findings came just hours after Halifax, Britain's biggest mortgage lender, said annual house price growth has fallen to 1.5%, its lowest rate in more than five years. On a quarter on quarter basis, prices have crawled to a virtual halt, rising just 0.2%.
A separate report from upmarket bank Coutts said prime central London is "in limbo" while the Brexit negotiations continue. It said prices were down 14.7% from their peak in 2014, and transaction activity had fallen by about a third.
However, some parts of the UK are still experiencing brisk activity. Despite the Irish border remaining the thorniest issue around Brexit, the Norths's property market is booming. "The strongest growth [is] once again coming in Northern Ireland and Scotland," Rics said.
In Belfast, surveyor Kirby O'Connor of GOC estate agents said: "The sales market has been strong especially over the past month, we have noticed a strong appetite for investment."
In Hexham, Northumberland, Neil Foster of Foster Maddison said: "Sales have remained consistent throughout October with little or no impact from daily hysteria in the media over Brexit."
There was bad news for tenants, with Rics reporting that rents have begun to rise despite the slowdown in the residential sales market. It said there had been a "modest improvement in tenant demand during the three months to October", as landlords were selling up to avoid new buy-to-let taxation. But while demand is rising and supply is falling, Rics predicts only small rises in rents.
According to separate data from Reapit, which manages software for letting and estate agents, rental demand has risen 13.3% in the past year while rental stock was down 6.9%.
"Over one in 10 landlords are actively looking to sell, compounding the issue," said Gary Barker of Reapit. "Although our research shows that rents have stayed broadly flat over the past year, inevitably we are facing a continuing supply-side squeeze, which will lead to higher rents in the near future. There are simply not enough properties to meet demand, and tenants face rising costs in a turbulent economy."
The housing market was boosted by the help-to-buy scheme announced by George Osborne in 2013.
While Brexit dominates the sales market, property experts said other factors, such as stamp duty and interest rate rises, are also dampening market activity, particularly among higher-priced properties.
"For properties marketed at over £1m, close to three quarters of respondents reported sales prices were coming in below asking prices," Rics said. "What's more, 14% cited sales prices were on average more than 10% below the initial asking price [up from 10% three months ago]."
Source  The Guardian